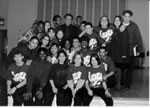 Areas of Expertise
Leadership Development
Diversity Awareness
Cultural Competencies
EO and Diversity
Race and Gender
Generations in the Workplace
Diversity Mentoring
Heritage Celebrations
Diversity for Practitioners
Healthcare Disparities
Hispanics at Work
Ensuring the Success of All Students
1st Generation College Students



Ensuring the Success of All Students
Educators have to excel with students who come to school learning ready at the middle-class level and with those who are not. Learning to increase the achievement and graduation rates of students from poverty has become a critical challenge for schools across the country. The agenda of educational practitioners is filled with such urgent issues as:
Closing the achievement gap
Building the middle-class learning framework in students from poverty
Unleashing the potential of learners with untapped potential
Ensuring the academic success of English Language Learners
Reducing summer learning loss through reading programs
Leveraging diversity of thought
Emotional intelligence
Different ways of learning for improving test scores
Adjusting the tripod project paradigm of content, pedagogy and relationships for high achievement
Ethnic/Racial disparities in education
Educational leaders and administrators are also faced with unique issues which require cultural competencies. Agenda goals include:
Building principal's skills for leading achievement driven schools
Strengthening school-home-business partnerships
Creating safe learning/teaching environments
Developing and sustaining diverse, inclusive, high performance administration/board teams
Recruiting, growing and retaining underrepresented talent in the profession
Promoting fair, equitable and healthy labor/management relationships
Our diversity consultants and staff development faculty at ExcelAll are strategically positioned and qualified to conduct culturally relevant training to address these and related topics/themes. We strive to meet and exceed the hopes and mission of the educational stakeholders in your teaching/learning communities and institutions.
We can assist you to:
Understand and explain to significant educational stakeholders that new strategies and cultural competencies are needed in order to ensure the success of students from poverty in middle-class schools;
Develop and strengthen the school-home-business-community partnerships for increasing the achievement and graduation rates of learners with untapped potential; and,
Identify and target the ineffective study habits of students and those of educators that frustrate the quest of growing and graduating students from poverty in our schools.