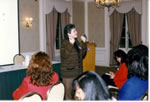 Areas of Expertise
Leadership Development
Diversity Awareness
Cultural Competencies
EO and Diversity
Race and Gender
Generations in the Workplace
Diversity Mentoring
Heritage Celebrations
Diversity for Practitioners
Healthcare Disparities
Hispanics at Work
Ensuring the Success of All Students
1st Generation College Students



Diversity Mentoring
Making the pipeline of talent development inclusive requires mentoring skills for growing diverse members from all groups. Crossing identity lines to mentor and develop talent from groups that mentors may be uncomfortable dealing with is often a huge barrier to achieving this mentoring goal.
Mentoring dilemmas must be addressed by organizations eager to leverage differences in order to create and sustain diverse, inclusive and high performance teams at all levels. Informal mentoring is not enough to secure the best talent from the demographic groups that continue to be underrepresented at mid-level managerial positions and above. Without diversity competencies to mentor across generations, class, racial and gender lines, the plan to develop diverse talent for greater leadership will fall flat.
We can help you to:
Learn to identify, recruit and grow those in the organization with "least access" to informal mentoring venues as a beginning step for creating a facilitated diversity mentoring process;
Develop cross-cultural skills for guiding mentors, associates and prot?g?s to participate in respectful, safe, developmental teaching and learning partnerships; and,
Measure diversity mentoring results.