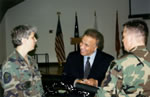 Areas of Expertise
Leadership Development
Diversity Awareness
Cultural Competencies
EO and Diversity
Race and Gender
Generations in the Workplace
Diversity Mentoring
Heritage Celebrations
Diversity for Practitioners
Healthcare Disparities
Hispanics at Work
Ensuring the Success of All Students
1st Generation College Students



Generations in the Workplace
When generations collide, productivity declines. Workplace leaders and managers need to leverage what members of different generations bring to the agenda of change in order to better achieve the missions of their organizations. Managers and leaders who are eager to respond to the challenge of overcoming age-diverse differences in the workplace require knowledge of best practices and diversity competencies.
Different ways of talking, thinking, socializing and setting priorities tend to drive wedges between older and younger work members. For example, communication may be compromised when a group of younger workers expresses a greater need for feedback than older workers. Consider another example, older workers may care less for time off for "quality of life" issues and place more value on "getting the job done," no matter how long it takes. These rifts and resentments that develop between age groups need to be reduced by competent managers.
The ability and knowledge to manage clashes between generations is a must! We can help those who seek competencies for transforming generations at war into generations at work to:
Leverage talent across generations in 21st century organizations to achieve a competitive advantage;
Understand the socio-economic and political forces that shape the values, beliefs and passions of the major generations in the workplace; and,
Create and sustain harmonious work teams across age diverse groups in changing organizations.