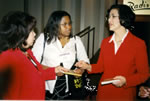 Areas of Expertise
Leadership Development
Diversity Awareness
Cultural Competencies
EO and Diversity
Race and Gender
Generations in the Workplace
Diversity Mentoring
Heritage Celebrations
Diversity for Practitioners
Healthcare Disparities
Hispanics at Work
Ensuring the Success of All Students
1st Generation College Students



EO and Diversity
When does a set of challenges in an organization require diversity versus an EO intervention? If we have EO, do we need diversity? Is it proper to assume that Diversity is the successor to EO? These and related questions need to be answered in a way that makes it possible for leaders and managers to explain how to leverage each in order to strengthen the world of work.
Diversity and EO must not be confused. They are both essential in creating and sustaining a respectful, civil and productive workplace. Failure to understand how EO programs differ from a Diversity process can weaken the quest to create and sustain diverse, inclusive and high performing work teams in your organization.
Without the proponents of EO and Diversity programs working together to become interdependent, the related goals of leveraging differences, responding to changing demographics, delivering culturally relevant goods and services and meeting the needs of diverse workers will likely be derailed.
We can work with you to:
Reduce negative tensions between EO and Diversity proponents in the organization;
Learn instinctively when it is appropriate to leverage EO or Diversity to respond to an urgent issue; and,
Make the business case for EO and diversity in order to reduce complaints and ensure that the pipeline of talent development is inclusive.