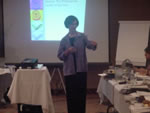 Areas of Expertise
Leadership Development
Diversity Awareness
Cultural Competencies
EO and Diversity
Race and Gender
Generations in the Workplace
Diversity Mentoring
Heritage Celebrations
Diversity for Practitioners
Healthcare Disparities
Hispanics at Work
Ensuring the Success of All Students
1st Generation College Students



Hispanics at Work
Leveraging the skills, knowledge, world views and creative energies of Hispanics in the workplace is a capability that managers and leaders in organizations must develop fully. Leading work teams that include Hispanics from different nationalities, gender and racial identities, socio-economic background, linguistic proficiency levels, religious beliefs and across generations requires a unique set of cross-cultural skills.
Additionally, understanding the cultural values of this growing identity group and how these are likely to impact productivity and team cohesion in organizations is critical for managers and supervisors who want to grow and mentor Hispanics for greater leadership roles. Making their numbers equal a positive force in the workplace can happen only with the guidance and efforts of culturally competent stake holders.
Extensive travels and work experiences in Latin American settings have contributed to our base of knowledge and perspectives. We can help you to:
Maximize the productivity and contributions of Hispanic employees through culturally sensitive leadership and supervisory skills sets;
Recruit, select, develop and retain Hispanic talent and identify pitfalls and goals for managers and leaders; and,
Leverage an organization's internal Hispanic base to increase its impact, mission and bottom line as well as its growing external customer base.