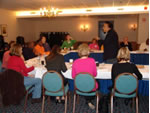 Areas of Expertise
Leadership Development
Diversity Awareness
Cultural Competencies
EO and Diversity
Race and Gender
Generations in the Workplace
Diversity Mentoring
Heritage Celebrations
Diversity for Practitioners
Healthcare Disparities
Hispanics at Work
Ensuring the Success of All Students
1st Generation College Students



Diversity for Practitioners
The concept of diversity carries a lot of historical baggage. Controversy, confusion, "shut down" and hostility toward the subject abound. Practitioners need to know how to define diversity and introduce it as a strategic resource in presentations to stakeholders of increasingly diverse organizations. Making the business case for diversity requires cultural competencies to present balanced business and mission-driven reasons for the process.
Tips for getting the job done are in great demand. A diversity consultant might ask, what are the best practices for securing contracts? How do workshop facilitators tell the truth without turning off those who benefit directly or indirectly from privilege and inequality? Which diversity small group exercises have the best track record for increasing learning in brain storming exercises? What strategies work best for ensuring the support of white males as full partners when implementing a diversity initiative?
Our training-for-trainers can help you to:
Identify the best templates for organizing diversity workshops and training modules;
Guide client groups to make a bottom line, mission-driven and organization-specific diversity definition; and,
Hone competencies for improving diversity workshop presentation skills in cross-cultural settings.