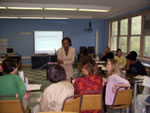 Areas of Expertise
Leadership Development
Diversity Awareness
Cultural Competencies
EO and Diversity
Race and Gender
Generations in the Workplace
Diversity Mentoring
Heritage Celebrations
Diversity for Practitioners
Healthcare Disparities
Hispanics at Work
Ensuring the Success of All Students
1st Generation College Students



Diversity Awareness
Diversity is not about counting heads, it's about making head counts. Diversity is not about single issue activism, it's about strengthening the workplace with inclusive, diverse, high performing teams at all levels of the organization. Diversity is about mission and the bottom line.
The launching of a diversity process requires that a critical mass of employees and leading stake holders in an organization are on the same page about what constitutes a diversity initiative. Organization-wide awareness is paramount. Responding to demographic changes and creating and sustaining an organizational culture, which is productive and respectful, is the bedrock of this commitment.
We can help you to:
Secure buy in for diversity as a force that strengthens the purpose and bottom-line of your organization;
Introduce strategies that will increase your cultural competencies to achieve the goal of a mission- driven diversity process; and,
Separate myth from reality by viewing the process as essential to creating and sustaining diverse, high performing and inclusive work teams.