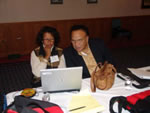 Areas of Expertise
Leadership Development
Diversity Awareness
Cultural Competencies
EO and Diversity
Race and Gender
Generations in the Workplace
Diversity Mentoring
Heritage Celebrations
Diversity for Practitioners
Healthcare Disparities
Hispanics at Work
Ensuring the Success of All Students
1st Generation College Students



Healthcare Disparities
Making sense of the complicated interrelationships between race, ethnicity and socioeconomic conditions which are likely to contribute to healthcare disparities and other related factors that affect quality of access to health care have become front-burner issues for health care providers. The hidden rules that contribute to pervasive healthcare disparities are challenges that must be addressed. Other challenges include the impact of cultural beliefs, linguistic barriers, ability to pay, the trust factor for care providers, the predispositions in groups to seek timely care, and how the assumptions of service providers might frustrate the care seeking behaviors of patients.
We can add value to your quest to target disparities by helping you:
Make the business case for building consensus in the profession to ensure that quality health care services will be provided to all patients;
Create culturally relevant and community-specific interventions, in order to develop opportunities that provide preventive care for underserved populations; and,
Increase awareness of the institutional barriers (and the best practices for removing them) that prevent under-served populations from using health care services.