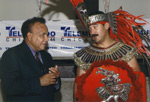 Areas of Expertise
Leadership Development
Diversity Awareness
Cultural Competencies
EO and Diversity
Race and Gender
Generations in the Workplace
Diversity Mentoring
Heritage Celebrations
Diversity for Practitioners
Healthcare Disparities
Hispanics at Work
Ensuring the Success of All Students
1st Generation College Students



Heritage Celebrations
Celebration-driven diversity opens the door of discovery for members of an increasingly diverse workplace to appreciate the many differences that exist in the world of work. This tradition for valuing the unique qualities, contributions, quests, progress and frustrations of members of identity groups has become common practice in many organizations.
The challenge for making these events valuable to the quest of creating and sustaining a respectful climate for diverse work team members requires cultural competencies on the part of leaders and managers in the organization. Caution must be taken that such events are celebrated with the mission and bottom line interests of the organization as the central focus. Improperly leveraged, such events can segregate rather than unite.
Affinity or employee groups are often charged with creating and implementing the agenda for high visibility events related to the celebration of their particular interest group. What is the best way for diversity champions to work closely with affinity leaders? Leveraged correctly, the celebratory event can provide a forum for the many voices of diversity in the workplace. Listening to these voices can inspire management and leadership to not only change the bulletin boards, but also the organizational culture. Further, these events can become part of a larger strategy for increasing market share and developing diverse talent.
We can help you to:
Ensure that heritage celebration events become a force multiplier for the bottom line and mission of the organization;
Invite and increase the participation of employees and other key stakeholders not affiliated with the sponsoring affinity group to attend high visibility events; and,
Safeguard the process from speakers and presentations that offend and segregate.