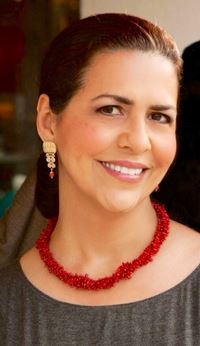 Our Associates
Richard T. Johnson
Dr. Rosita López
Dr. Abdin Noboa-Rios
Dr. Sonya Whitaker
Jack Broderick
Dr. Walter B. T. Douglas
Mary Ann Epps RN., BS., CNOR
Dr. Sherrie L. Fowlkes
Major Peter M. ("Pete") Balogh
William Micklus
Gladis Benavidas



Dr. Rosita López
Dr. Rosita López is a gifted inspirational lecturer of international demand as keynote speaker in forums ranging from educational reform to corporate and public governance. Her presentations are lively, her illustrations practical, and her messages motivating and inspirational.
Dr. López is a proud educator who equally excels as an orator, as she does in the boardroom. She has served on the Casa Central Board, one of the largest Hispanic serving nonprofit organizations in the United States, for over 20 years, 10 of them as Chairperson. She also serves as Chairperson of the Northeastern University El Centro Board in Chicago for over 18 years.
As a speaker, she frequently uses personal experience in addressing parenting skills, practical classroom teaching (experienced at the elementary, undergraduate, and graduate levels), and in managing the all-encompassing human capital. Her presentations are invaluable to those in search of answers.
Dr. López is also known as a creative administrator with international recognition for her work with multi-cultural communities, parental involvement, leadership in educational administration, and for fostering educational reform, inclusion, and diversity. She brings a passion and vision that motivates and empowers diverse groups and individuals with the practical skills to succeed in driving change.
She has authored numerous publications and chapters on education and leadership. She received the National Hispanic Hero Award from the National Latino Education Institute for her service to the community. Stedman Graham in his book, Identity--Your Passport to Success included her story. She does not miss a beat in delivering her messages on equity and social justice, an essential component of educational excellence. Her audiences always leave with new insights with which to form and sustain more profitable and comfortable intercultural relationships.
Dr. López, a certified bilingual school leader is also known for working with non-traditional parents, and providing leadership for Educational Reform-related issues. Her diverse background ranges from medical to educational topics, and has served as director of training and reform for the Chicago Public Schools.
In addition to serving as professor emeritus for Northern Illinois University (NIU), Dr. López was nominated to serve on the President's Commission on the Status of Women and the President's Commission on the Status of Minorities. She remains an associate with Souder, Betances & Associates, an innovative, think-tank diversity development and speaker's organization. She conducts trainings, seminars, and studies in association with a professional team of experts on educational change. Her clients range from non-profit educational institutions, to state government, federal agencies, and corporate conglomerates.