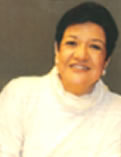 Our Associates
Richard T. Johnson
Dr. Rosita López
Dr. Abdin Noboa-Rios
Dr. Sonya Whitaker
Jack Broderick
Dr. Walter B. T. Douglas
Mary Ann Epps RN., BS., CNOR
Dr. Sherrie L. Fowlkes
Major Peter M. ("Pete") Balogh
William Micklus
Gladis Benavidas



Gladis Benavidas
Gladis Benavidas is the Principal of? BENAVIDES ENTERPRISES (BE), Inc., a Management Consulting firm located in Madison, Wisconsin U.S.A.? BE Inc.? Ms. Benavides and her colleagues have extensive experience and provide expert technical assistance and training. They effectively address issues such as Diversity Management, Equal Opportunities, Strategic Planning, Organizational Development, Labor Relations, Conflict management and Client/Customer service in the context of cross-cultural communications.
They can develop and implement internal procedures, strategies and training programs to recruit and retain competent workers, enhance and maintain effective interpersonal-communications and teamwork. They can also provide training and technical to managers and staff to ensure the provision of excellence in customer service thus improving productivity and profit.
BE, Inc. provides expert advice and counsel in the interpretation and implementation of US Federal laws and regulations in areas such as: Equal Employment Opportunity, Contract compliance, Immigration, Safety and Health and Labor relations.? Consultants have the capacity to conduct internal audits and investigations to efficiently and confidentially resolve issues/conflicts that may result in liability and negative media coverage.
The BE team can assist companies and organizations in developing and implementing multi-cultural and multi-lingual marketing strategies to? penetrate urban and ethnic specific markets/communities. Their services include training for sales and other direct service staff to effectively communicate with customers/clients and develop a community presence that will provide for visibility and brand recognition.