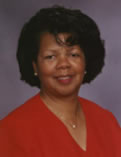 Our Associates
Richard T. Johnson
Dr. Rosita López
Dr. Abdin Noboa-Rios
Dr. Sonya Whitaker
Jack Broderick
Dr. Walter B. T. Douglas
Mary Ann Epps RN., BS., CNOR
Dr. Sherrie L. Fowlkes
Major Peter M. ("Pete") Balogh
William Micklus
Gladis Benavidas



Dr. Sherrie L. Fowlkes
Dr. Sherrie Fowlkes is a diversity practitioner with Souder, Betances and Associates and has over 20 years of experience as a clinician working in both the academic and mental health arenas. A graduate of the University of New York at Albany with a Ph.D. in counseling psychology, she has an extensive background in conducting workshops and seminars on a variety of topics including pain management, peak performance, cultural competencies and mid-life changes. She has presented to both small and large groups including military troops, clinicians in Lithuania, university professors in South Africa and Kenya as well as at universities and hospitals throughout the Northeast. She has taught and presented on topics that include Leadership Skills, Smoke Cessation, Strategies for Wellness, Time Management, Problem Solving Techniques and Critical Incident Stress Management.
A pioneer in diversity education, training, and measurement, she has been trained by both the military in this capacity as well as by the New York State Department of Mental Health.
Prior to her recent relocation to Florida, Dr. Fowlkes was an active participant in her community with memberships that included board of trustees for the International Charter School of Schenectady, President of the Northeast Career Planning Board, Life Member and board member of the Girl Scouts Mohawk Pathway Counsel, Medical Committee Member of the New York AIDS Council and Scholarship Trustee for the Albany Branch NAACP Medical Scholarship Endowment.