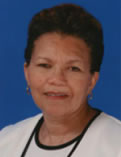 Our Associates
Richard T. Johnson
Dr. Rosita López
Dr. Abdin Noboa-Rios
Dr. Sonya Whitaker
Jack Broderick
Dr. Walter B. T. Douglas
Mary Ann Epps RN., BS., CNOR
Dr. Sherrie L. Fowlkes
Major Peter M. ("Pete") Balogh
William Micklus
Gladis Benavidas



Mary Ann Epps RN., BS., CNOR
Mary Ann Epps is a Perioperative Nurse at Wuesthoff Health System Center, Melbourne Florida. Formerly from Hartford, Connecticut, she was one of the first Perioperative nurses in Connecticut to become certified in her specialty and has maintained her certification for the past 25 years. During her 41 years in Perioperative Nursing, some of the administrative positions she has held include Assistant Director of a trauma center, Head Nurse and Educational Coordinator in two medical centers. She is licensed in three states.
Mary Ann has balanced the nursing profession with a lucrative military career. In October 2002, she retired as Brigadier General and the Assistant Adjutant General of the Connecticut Air National Guard after 26 years of military service. She is the first African American and the first female to achieve the rank of Colonel and Brigadier General in the history of the Connecticut Air National Guard. She is also the first African American female to become the commander of a state Air National Guard. She also served as Medical Squadron Commander for six years, Head Nurse and member of the Governor of Connecticut's Military Staff.
After attending Air War College in residence, Mary Ann rounded out her career by gaining an extensive background in equal opportunity management and diversity. She has played a leading role in the implementation and monitoring of various diversity programs for the military as well as serving as an Adjunct Instructor for the Department of Defense mobile training team traveling across the country.
She is a recipient of numerous awards and continues to be recognized for her leadership and achievements in civilian and military arenas. Currently, she is an Associate with Souder, Betances and Associates, Inc. Additionally, she is a Myers Briggs and Healing Touch Practitioner.