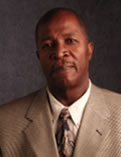 Our Associates
Richard T. Johnson
Dr. Rosita López
Dr. Abdin Noboa-Rios
Dr. Sonya Whitaker
Jack Broderick
Dr. Walter B. T. Douglas
Mary Ann Epps RN., BS., CNOR
Dr. Sherrie L. Fowlkes
Major Peter M. ("Pete") Balogh
William Micklus
Gladis Benavidas



Dr. Walter B. T. Douglas
Dr. Walter B. T. Douglas is currently Special Assistant to the President of Andrews University for Diversity and Director of the Institute of Diversity and Multiculturalism. Douglas has conducted workshops, seminars and lectures on diversity and multiculturalism in the USA, Canada, New Zealand, and Caribbean and South Africa. He has worked with the Human Resources Association of Trinidad and Tobago, the James White Library at Andrews University, Berrien Springs, Michigan, the Director and staff for Human Development at Lake Michigan College, Benton Harbor, Michigan, and the Kellogg Corporation in Battle Creek, Michigan along with nationally known diversity consultant and practitioner Dr. Samuel Betances from Souder, Betances and Associates, Inc., Chicago, Illinois.
Douglas is known for helping churches create and sustain multicultural congregations, where diversity is valued and embraced. He has worked with institutions and corporations, assisting them in fulfilling their mission of positioning themselves where they can gain competitive advantage in the work force and to achieve bottom line success by creating a work environment where tolerance, respect, acceptance and collaboration are valued and, from coalitions of interest rather than coalitions of color or race, help to create an EPIC (empower, productive, inclusive, collaborative) organization. He will enable your organization to be aware and sensitive to the difference between affirmative action, equal employment opportunities, sexual harassment and diversity in the work force.
Douglas has written extensively on the subject of diversity and multiculturalism. He received his training at McGill University, Montreal, Quebec, McMaster University, Hamilton, Ontario, Canada, Andrews University, Berrien Springs, Michigan, and London University, London, England.
He has lectured on other subjects such as world religions, church history and postmodernism in Africa, Australia, Europe, Latin America, North America, India and the Caribbean.