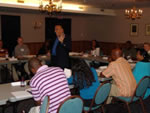 Services
Conference Keynotes
Commencement and Convocation Addresses
Executive Leadership Seminars
Diversity Awareness Workshops
Diversity Training for Trainers
Executive Retreats
International Cultural Audits
Religious Lectures and Inspirational Messages
Special Events/Heritage Celebration Presentations
Executive Coaching
Diversity Training Products
Diversity Strategic Planning
Measuring Diversity Results
Climate Surveys
Program Evaluations



Diversity Training for Trainers
Provocative and highly interactive three to five day workshops designed to enhance the tool-kits of practitioners, staff development trainers, EO officers, HR managers and consultants. Learn how to:
Make the business case for diversity
Guide discussions
Become subject matter experts
Debrief feedback
Explain the difference between EO and Diversity
Facilitate events
Measure outcomes
Create products
Customize presentations
Leverage small group exercises
Expand support base
Develop curriculum
Keynote events
Secure buy-in
Facilitate workshops that are bottom-line and mission driven for internal and external diversity clients
Diversity Practitioner Certification is available as a follow on to those attending any SB&A Training for Trainers. Additional requirements apply.